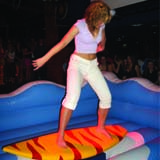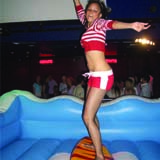 Surf s up Dudes!! The Surf Simulator, Perfect for your beach party or any summer event. The only way to ride the waves without getting wet! Great fun for everybody, anyone can jump on and have a go, learn to bend your legs, move your hips and roll with it. Comes complete with a timer so you know exactly how long you survived the waves.
You don't have to worry about a thing. A qualified operator is there to do the job and keep you safe.
Access: Minimum 3 feet width, flat surface any steps uneven ground must be confirmed at time of booking.
The base has a diameter of 12 ft; allow an area of approximately 18 ft minimum to accommodate the motor, controls and your guests. Height 10 ft.