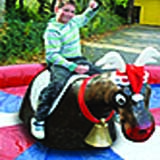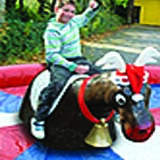 The ultimate in christmas entertainment let your guests ride our reindeer.
Especially for the Festive Season (or any other time if you fancy being a bit mad!) is our lovely Rudolf Rodeo he does exactly the same as the Bucking Bull only he is a Reindeer.
The Reindeer is hired completely manned by one of our trained staff who stays with it at all times.
Access: Minimum 3 feet width, flat surface any steps uneven ground must be confirmed at time of booking.