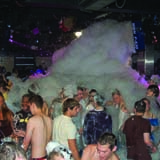 We call this machine Niagra for a reason.
This is our largest foam machine, with a fully controllable output which means we don't need to be completely silly with the amounts of foam.
Our foam can also be scented! imagine your club smelling of chocolate or strawberries. Great for theme nights.
We can also fake our foam glow in the dark for UV parties.
Takes only 180 seconds to completely fill a large dance floor. Cosh sheets supplied with request.